Technically, my laptop is an Apple. But Apples just turn brown and then fall apart. My current PowerBook G4 will soon turn into a MacBook Aluminum (Late 2008). That's not a literal statement, of course. But with the Macintosh operating system's built-in "Migration Assistant" and the fact that the software on my PBG4 is current, the transformation should appear pretty convincing.
I haven't actually received the new MacBook just yet, but I've tracked the shipment and it is due here today. I'm pretty freakin' excited. This is how Christmas morning felt when I was a child! I should calm down, though. There is, after all, a Failure-Out-of-Box possibility. An informal, small sample Macintouch Survey which included 260 MacBook users' reports, showed an 11.1% initial failure rating (failures covering a wide range of issues). As this is a third generation MacBook, using pre-established concepts in a predominantly new design (they took what they learned from the first couple and started over with those lessons in mind) with pretty darned nice parts…. Well, it could go either way. I have never bought the first of any model of computer and though this could be argued as a third generation machine, it could just as easily be labeled an original design.
I've been plugging away on my increasingly slow-by-comparisoin laptop because I am not a graphics-based power user. My work consists of some processor-based number crunching with a little GUI design on top. Still, I've seen the speed of those Intel computers and wanted to hop on that zippy bandwagon for a while now.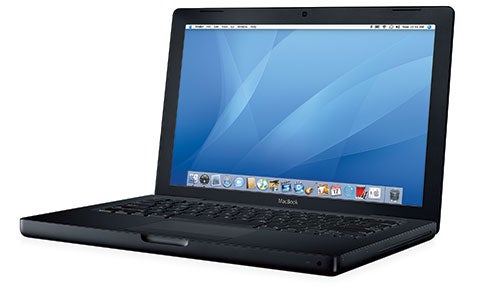 I very nearly purchased one of the black MacBooks as I could have gotten it at quite a bargain. But I stuck to my aesthetic guns on the basis that I wanted a small metal laptop. That's why I got this 12″ PowerBook G4 in the first place!
When the MacBook Air was first announced, I practically leapt into my own computer's display trying to grab for it: terribly thin, ridiculously light, and
with the 13 inch form factor that replaces the 12 inch (for widescreen display purposes). Alas, it was too slow, too crippled, and too expensive for me to justify it to myself. If that MacBook Air had been released for $1200, or if it had contained more power, I might have been typing out my blogs on Air by now.
Instead, I waited. I had patience and confidence in my own excellent taste in design. I felt certain that my sensibilities would not go unrewarded! And sure enough, in October of 2008, Apple released the MacBook (13-inch, Aluminum, Late 2008) and confirmed my suspicions that I'm always right. (Except for spelling the word 'suspicion' — I always have to look that up for some reason!) The specs were right, the pricing was right, and it looks quite pretty. I would wait no longer. O, how I would battle for days to reach… actually, I just requested a company discount and payment plan. It's good to work somewhere you honestly enjoy the perquisites you're given. As I await my new computer, I give you a geek-friendly, kinda-layperson-friendly comparison chart:

| | | |
| --- | --- | --- |
| | Paul's old PBG4 | new MacBook |
| Born | April 2004 | October 2008 |
| Speed | 1.33Ghz PowerPC | 2.4Ghz Intel (C2D) |
| Screen | 12.1″ flat finish | 13.3″ glossy |
| Resolution | 1024 x 768 | 1280 x 800 |
| External Display | 2048 x 1536 | 2560 x 1600 |
| Weight | 4.6lbs | 4.5lbs |
| Hard Drive | 80GB PATA | 250GB SATA |
| Memory | 1.25GB (Max) | 2GB (Min) |
| Battery Life | ~2.5hrs low-power | ~5hrs wireless |
| Power Connector | trippable | magsafe |
| WiFi | 802.11g | 802.11n |
| Bluetooth | version 1.1 | version 2.1 |
| Optical Drive | DVD-play, CD-write | DVD&CD-write |
| Camera | NONE | Built-in iSight Webcam |
| Speakers & Mic | yep | yep |
Yeah, this is gonna be sweet. I sure hope it works!